REGISTRATION
To register for the conference, please click on the registration module button down below to open the registration page.
Congress registration fees: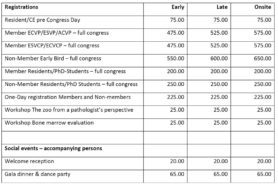 Click here to download  the registration fees template.
Early bird: until 31 July 2019
Late fee: until 22 September 2019
On-site registration: as of 23 September 2019
* Please note that the registration fee for one-day entry is equal during all registration periods!
** Social events are free of charge for delegates, however, for catering purposes, registration is required. Places are limited for these events, so please register as soon as possible
Non-members
Why don't you consider taking advantage of reduced congress registration fees, by becoming a  member now – to do this please go to: ESVP membership  or ESVCP membership  .
VAT
Please note that the foundation Stichting Jaarcongres 2019 van Europees Pathologen en Klinisch Pathologen is not liable to  VAT  according to the Dutch tax office. In case the Dutch tax office revises on this statement, the congress and it's organisers can rightfully claim this VAT with the registered participant.

The full congress registration fee includes:
• Admission to all sessions
• Admission to the exhibition area
• Daily lunch
• Daily coffee breaks
• Final program
• Welcome reception
• Final program
Registration desk:
The onsite registration desk opening hours are:
25 September 2019: 08:00 – 18:00
26 September 2019: 08:00 – 17:30
27 September 2019: 08:30 – 17:00
28 September 2019: 08:30 – 14:45
Payments:
Registration is valid on receipt of payment that must be submitted at the same time. Payments can be made by online credit card payment or via a wired bank transfer. Upon receipt of your completed registration form, you will receive a written confirmation or an e-mail of your registration.
All payments should be made in EURO (€). Personal cheques and foreign currency are not accepted. More information about payment procedure can be found in the on-line registration form.
Cancellation and Refunds:
The Congress Secretariat must be notified in writing in case of cancellations. Cancellation before 1 August 2019: payment will be refunded after the conference minus an administration fee of 50%. For cancellations made after this date: no refunds will be made.
Exchange rate differences and bank charges will also be deducted.
Conference badges
All participants, accompanying persons and exhibitors must wear the identification badges. Entrance to the zoo meeting halls and the exhibition area will not be permitted to any person without badge.
Liability
Upon registration, participants agree that neither the Organizing Committee nor the Conference Secretariat can be subject to any liability concerning participation related activity. Participants should, therefore, organize their own (health and travel) insurance(s).
Official Letter of Invitation
Official letters of invitation designed to help overcome administrative difficulties in certain countries may be requested after  the online registration process and congress fee payment. It must be understood that such letters do not represent a commitment on the part of the Organizing Committee or congress to provide any financial assistance.
Certificate of Attendance
Delivery of the Certificates of Attendance will take place after the conference via e-mail.

Language
The official language of the conference is English.
Safety and Security
It is advisable that you do not leave bags or suitcases unattended at any time, whether inside or outside the session halls. The organizers cannot accept liability for personal accidents or loss of or damage to private property of participants.
Photos and Videos
During conferences organized by PCO on behalf of the foundation Stichting Jaarcongres 2019 van Europees Pathologen en Klinisch Pathologen it is possible that photos and/or videos are made. These photos and/or videos can be used for or on publicly accessible websites for illustration purposes and/or to give form to the website(s) related to the congress of the  foundation Stichting Jaarcongres 2019 van Europees Pathologen en Klinisch Pathologen and/or the client and/or for or in news items, reports, newsletters, guides, leaflets, advertising and/or social media related to the congress  and/or the client. You are entitled at any time to object to this processing of personal data by sending a statement to that effect to the PCO. The foundation Stichting Jaarcongres 2019 van Europees Pathologen en Klinisch Pathologen will, where reasonably possible, erase the personal data and, if this is not possible, cease further use of the personal data.
Conference Secretariat
Pauwels Congress Organisers
Mr. Joeri Slangen

Avenue Céramique 222
6221 KX Maastricht
the Netherlands
T: +31 43 321 81 80
W: www.pauwelspco.nl
E: j.slangen@pauwelspco.nl